Master in Business Analytics (MSc-BA)
Master in Business Analytics (MSc-BA)
Prepare the students as new generation of managers who understand data and are fluent in data-driven decision making to solve real problems with Big Data in today's digital world.
The Master of Business Analytics (MSc-BA) is designed for young professionals interested in data science/analytics which is now a critical skill for every manager in digital age. This program provides the technical skills and business vision to understand, work and decide with the data. The Master of Business Analytics is a comprehensive introduction to big data, databases, opportunities and challenges. Our program trains young individuals how to explore/analyze and visualize 'big data' sets to derive insights, how to communicate them as well as how to use Artificial Intelligence and Machine Learning methods to support decision making and digital transformations for both private and public organizations.
In addition to business courses, the core curriculum in Business Analytics trains young professionals to be future leading data scientists, analysts and top managers with courses in database fundamentals, data preparation, exploration, visualization techniques and communication/storytelling skills. The program also includes Artificial Intelligence/Machine learning methods for advanced analytics by using software technologies like SQL, Tableau, Python, and PowerBI, NumPy, Pandas, and KNIME.
IT and Data professionals with Cloud Computing skills are in high demand. Through our partnership with AWS Academy, we also deliver Cloud Computing content with a series of lab exercises that teach how to conduct Big Data analysis with practical, real-world examples. This will help our students to prepare to take an AWS Certification exam which is one of the most valuable certifications in the market and will open doors to a huge range of opportunities.
The Master of Business Analytics is comprised of 14 courses taken over one year.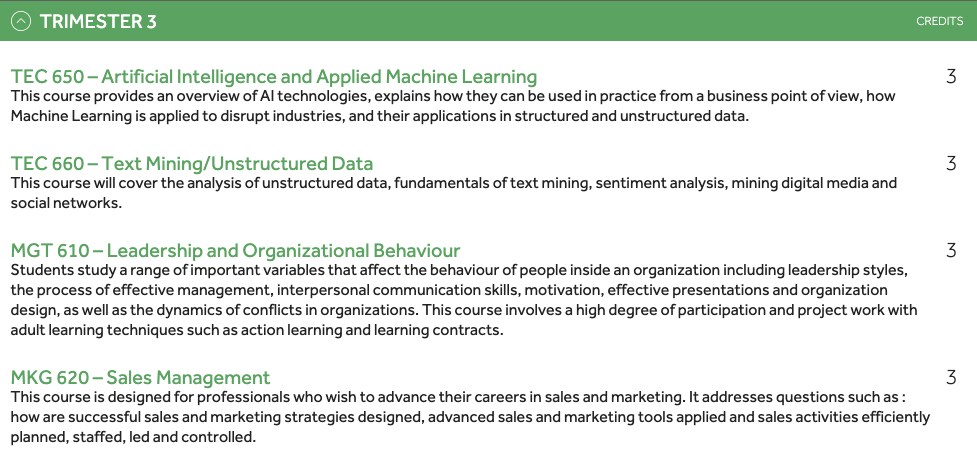 Multi-disciplinary program blending technology and business
Good balance of theory and practice with case studies and hands on exercises with real data
Explore the latest technologies and practices in Big Data, Data Science and Artificial Intelligence
Learn one of the key skills employers are looking for the most, Cloud Computing, and add more value to your Masters by earning Amazon Web Services certificate
Developed, advised and delivered by data analytics experts with industry and academic experience
Gaining insight into global businesses, their management and operations
Optional double degree with Boston University
Study tour to Silicon Valley
International University in Geneva
Ranked among the top ten business schools in Switzerland, the International University in Geneva (IUG) is an accredited academic institution specializing in business education.The University offers undergraduate and graduate programs in Business Administration, International Relations, Digital Media, Computer Science and International Trade.
The curriculum features a unique combination of theoretical and practical instruction, with a particular focus on international business practices. The international exchange program offers an opportunity for students to study at renowned universities worldwide.The University is offering to all Bachelor students ground-breaking Degree option: to graduate in 3 years with two international Bachelor degrees awarded by the University of Plymouth, UK and the International University in Geneva .
Situated in Geneva, Switzerland, at the centre of Europe and a hub for international politics and business, the campus is located about 5 km from the city centre. The IUG has students representing over 60 nationalities thus providing a truly multicultural setting.
Why us?
Faculty
The faculty at IUG in Switzerland, is international in experience, practical in orientation and focused on their teaching. The faculty members are student-centered and committed to foster a stimulating learning environment.
An International Network
The International University in Geneva has established a strong network, developing exchange programs with 23 universities worldwide.
Study in Switzerland
Geneva belongs to a select group of truly "international" cities of the world, making it an ideal place to study international management.
Your Career with your MBA
MBA graduates have gone on to executive positions in multinationals, family businesses, international organizations and governments.
Career services
The International University in Geneva provides for counselling to assist students in their career decisions.
Accreditation/ Recognition
IUG has triple accreditation with 1) the British Accreditation Council (BAC) is referenced with the European Quality Assurance Register for Higher Education (EQAR)) 2) the Accreditation Council for Business Schools and Programs (ACBSP) and 3) the International Assembly for Collegiate Business Education (IACBE). ACBSP and IACBE are recognized by the Council for Higher Education Accreditation (CHEA)
Referenced in the education guides
IUG is referenced in several education guides including the "World Higher Education Database" published in collaboration with the United Nations, Educational, Scientific and Cultural Organization (UNESCO) and the International Association of Universities.

Be the first to add a review.
Please,
login
to leave a review