Master of Business Administration in Sales & Marketing (MBA-SM)
Master of Business Administration in Sales & Marketing (MBA-SM)
Prepare yourself for a management career at the forefront of current key business challenges.
Reaching excellence is the goal of our Master of Business Administration in Sales & Marketing (MBA-SM). The program is designed for mastering all operational and behavioral fundamentals such as the marketing and sales processes, the design and implementation of successful strategies and tactics, and the use of management and productivity tools.
The program builds managers who master the marketing and sales process. Areas such as how to design successful sales and marketing strategies and how to effectively address marketing and sales decisions are discussed. Finally the implementation of different sales and marketing tools are studied in the program
The Master of Business Administration in Sales and Marketing (MBA-SM) is comprised of 14 courses taken over one year.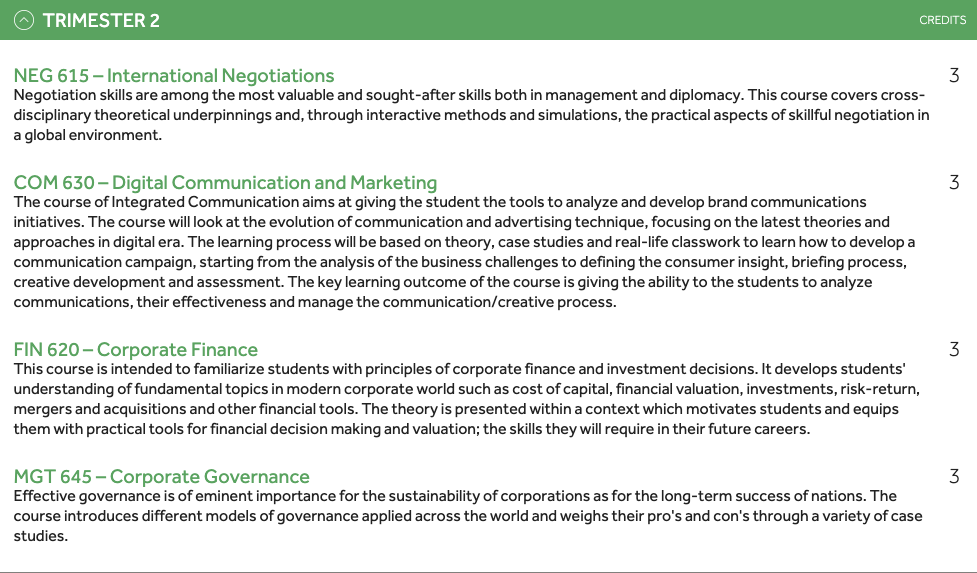 Ranked N°49 in the world by Eduniversal
Enhancing your knowledge and skills to address modern marketing challenges
Developing successful marketing and sales strategies and plans
Gaining a "hands-on" sales experience
Mastering marketing and sales tools and techniques
Learning from an academically and professionally qualified faculty body
Developing networking opportunities in the international market
Optional double degree with Boston University
Study tour to Silicon Valley
International University in Geneva
Ranked among the top ten business schools in Switzerland, the International University in Geneva (IUG) is an accredited academic institution specializing in business education.The University offers undergraduate and graduate programs in Business Administration, International Relations, Digital Media, Computer Science and International Trade.
The curriculum features a unique combination of theoretical and practical instruction, with a particular focus on international business practices. The international exchange program offers an opportunity for students to study at renowned universities worldwide.The University is offering to all Bachelor students ground-breaking Degree option: to graduate in 3 years with two international Bachelor degrees awarded by the University of Plymouth, UK and the International University in Geneva .
Situated in Geneva, Switzerland, at the centre of Europe and a hub for international politics and business, the campus is located about 5 km from the city centre. The IUG has students representing over 60 nationalities thus providing a truly multicultural setting.
Why us?
Faculty
The faculty at IUG in Switzerland, is international in experience, practical in orientation and focused on their teaching. The faculty members are student-centered and committed to foster a stimulating learning environment.
An International Network
The International University in Geneva has established a strong network, developing exchange programs with 23 universities worldwide.
Study in Switzerland
Geneva belongs to a select group of truly "international" cities of the world, making it an ideal place to study international management.
Your Career with your MBA
MBA graduates have gone on to executive positions in multinationals, family businesses, international organizations and governments.
Career services
The International University in Geneva provides for counselling to assist students in their career decisions.
Accreditation/ Recognition
IUG has triple accreditation with 1) the British Accreditation Council (BAC) is referenced with the European Quality Assurance Register for Higher Education (EQAR)) 2) the Accreditation Council for Business Schools and Programs (ACBSP) and 3) the International Assembly for Collegiate Business Education (IACBE). ACBSP and IACBE are recognized by the Council for Higher Education Accreditation (CHEA)
Referenced in the education guides
IUG is referenced in several education guides including the "World Higher Education Database" published in collaboration with the United Nations, Educational, Scientific and Cultural Organization (UNESCO) and the International Association of Universities.

Be the first to add a review.
Please,
login
to leave a review