Master of International Relations and Diplomacy (MIRD)
Master of International Relations and Diplomacy (MIRD)
Legal and Law
Pursue in Geneva two international degrees in International Relations and Diplomacy in 1 year from two highly ranked institutions – International University in Geneva and the University of Plymouth, UK.
The Master of International Relations and Diplomacy (MIR) responds to the growing demand to train young professionals in Geneva for decision-making careers in international organizations, diplomatic services and private sector. Situated in the same city as the United Nations headquarters in Europe, the program takes full advantage of Geneva's unique situation as a world capital of multilateral diplomacy. The MIR provides substantial resources for its international faculty and student body to network with international institutions (UNHCR, UNECE, UNCTAD, WTO, WHO, ILO, ITU, WIPO, WEF, ICRC) and diplomatic missions.
Students may select a unique option: undertaking the IUG master in IR consisting of 14 taught modules and extending their studies to include an individual research dissertation to gain the award of MA IR at University of Plymouth (UK). Upon successful completion of 12 out of 14 taught modules, at IUG, the student can progress directly into the dissertation stage of the MA IR at UoP, which would be an extra 4 months duration without leaving Geneva.
In addition to core international relations courses, with a focus on the United Nations system and the European Union, foreign policy and geoeconomics, global economy and economic diplomacy, the Master of International Relations and Diplomacy curriculum trains young professionals for decision making positions with courses in international trade organizations and statistics, executive communication and negotiations, multimedia and internet.
The Master of International Relations and Diplomacy is comprised of 14 courses taken over one year.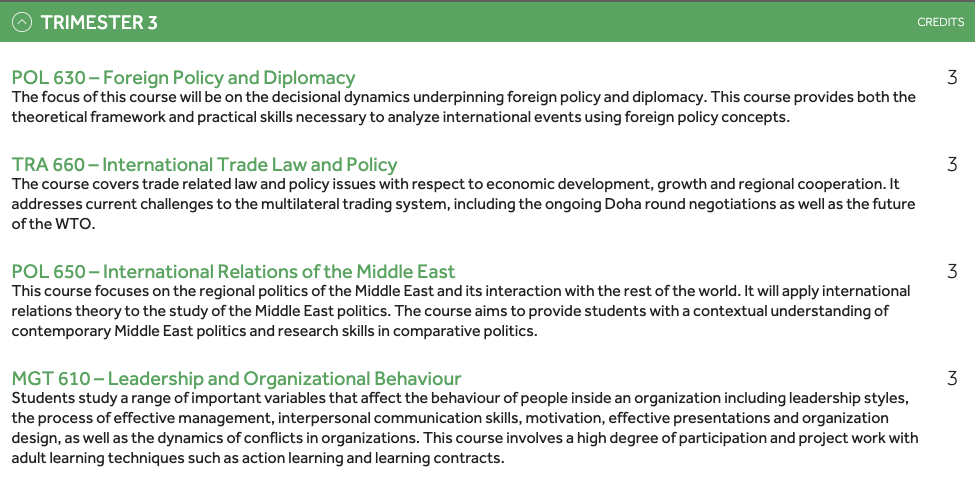 Achieving 2 recognised degrees in Geneva in 1 year awarded by the International University in Geneva and the University of Plymouth, UK
Learning in a dynamic environment in Switzerland with a multicultural student body and faculty working in academia and international institutions
Providing knowledge and skills to analyze international issues, prepare policy reports and participate in international decision making via international conferences and meetings
Exploring the United Nations system, international regimes, regional agreements and technical cooperation between states
Gaining insight into multilateral diplomacy being in the heart of "International Geneva"
Study tour to Silicon Valley
International University in Geneva
Ranked among the top ten business schools in Switzerland, the International University in Geneva (IUG) is an accredited academic institution specializing in business education.The University offers undergraduate and graduate programs in Business Administration, International Relations, Digital Media, Computer Science and International Trade.
The curriculum features a unique combination of theoretical and practical instruction, with a particular focus on international business practices. The international exchange program offers an opportunity for students to study at renowned universities worldwide.The University is offering to all Bachelor students ground-breaking Degree option: to graduate in 3 years with two international Bachelor degrees awarded by the University of Plymouth, UK and the International University in Geneva .
Situated in Geneva, Switzerland, at the centre of Europe and a hub for international politics and business, the campus is located about 5 km from the city centre. The IUG has students representing over 60 nationalities thus providing a truly multicultural setting.
Why us?
Faculty
The faculty at IUG in Switzerland, is international in experience, practical in orientation and focused on their teaching. The faculty members are student-centered and committed to foster a stimulating learning environment.
An International Network
The International University in Geneva has established a strong network, developing exchange programs with 23 universities worldwide.
Study in Switzerland
Geneva belongs to a select group of truly "international" cities of the world, making it an ideal place to study international management.
Your Career with your MBA
MBA graduates have gone on to executive positions in multinationals, family businesses, international organizations and governments.
Career services
The International University in Geneva provides for counselling to assist students in their career decisions.
Accreditation/ Recognition
IUG has triple accreditation with 1) the British Accreditation Council (BAC) is referenced with the European Quality Assurance Register for Higher Education (EQAR)) 2) the Accreditation Council for Business Schools and Programs (ACBSP) and 3) the International Assembly for Collegiate Business Education (IACBE). ACBSP and IACBE are recognized by the Council for Higher Education Accreditation (CHEA)
Referenced in the education guides
IUG is referenced in several education guides including the "World Higher Education Database" published in collaboration with the United Nations, Educational, Scientific and Cultural Organization (UNESCO) and the International Association of Universities.

Be the first to add a review.
Please,
login
to leave a review