PATHWAY OPTIONS FOR YEAR 11 & 12 STUDENTS
Pathway Course- various options for further study at TAFE or UniLink Diplomas as a pathway to university study later
Year 11 and 12 students
The transition from school to university can be daunting, but also incredibly exciting. Are you ready to start your adventure?
With uni life on the horizon, now is the time to consider your future and look at your options. To help you on your journey, we have a range of support avenues, as well as events that will help you make the right choices for you.
VETSS programs (previously known as Vet in Schools or VETiS) are approved by the Victorian Curriculum and Assessment Authority (VCAA). We accept applications from students currently enrolled in Years 10, 11 and 12, wanting to undertake VET as part of their senior secondary school certificates (VCE or VCAL). Most courses provide full completion of a certificate whereas some may only provide a partial completion. Some courses are only a one-year duration and some also contribute towards a student's ATAR.
Benefits of VETSS
VCE and VCAL
Upon successful completion of VETSS, students will achieve recognition within the Units 1 to 4 structure of Year 11 and 12 which may contribute towards satisfactory completion of the VCE. Selected programs offer scored assessments for Units 3 and 4. Further information is available from the secondary school. Students that complete VETSS will also meet the requirements of the Industry Specific Skills Strand and may also contribute to the Work Related Skills Strand of VCAL.
Pathways to future training
Swinburne offers both Vocational Education and Higher Education qualifications, making it easy to pathway from vocational into a university degree and receive the maximum credit for your previous studies. Through VETSS, you will have the opportunity to progress from trade school to a range of certificates, diplomas, advanced diplomas or bachelor degrees.
At Swinburne, we work closely with our secondary school partners to ensure a supportive environment for you if you choose to undertake vocational training and courses in your VCE or VCAL.
Victorian Certificate of Education (VCE)
VCE Connect at Swinburne is a complete VCE certificate program offering individualised choices. Our VCE program is designed for students to procure an ATAR if they wish; however, the majority of the students will be prepared for the world of work and life after school without external exams. Each VCE study is designed to provide a two-year program. Studies at Unit 1 and Unit 2 level are nationally and internationally benchmarked to a Year 11 standard, and further are benchmarked to a Year 12 standard. Units 1 and 2 can be completed as single units and further units in each study, are designed to be taken in sequence during the one year
Victorian Certificate of Applied Learning (VCAL)
The Victorian Certificate of Applied Learning (VCAL) is a senior secondary certificate based on vocationally orientated applied learning principles. The course provides an accredited program of studies in the following five compulsory strands: Literacy; Numeracy; Work-related skills; Personal development skills; Industry skills. Each learning strand contains accredited components drawn from VET qualifications, VCAL and/or VCE studies. At Intermediate level, knowledge and employability skills development leads to independent learning, confidence and a high level of transferable skills. At Senior level, knowledge and employability skills development leads to a high level of interpersonal skills, independent action and achievement of tasks that require decision-making and leadership.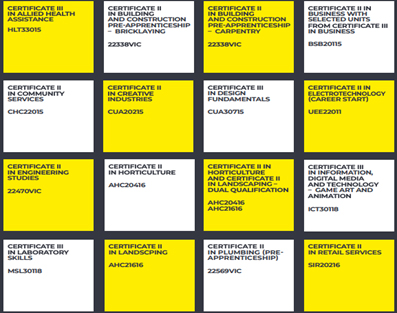 Didn't meet the maths prerequisite?
Our MathsLink program is designed to help you meet the maths prerequisites to study Aviation, Science, Education or Engineering courses here at Swinburne.  If you don't have the required VCE Units 3 and 4 maths subjects, our MathsLink: Methods or MathsLink: Further may be able to help.
Intakes & Fees
Contact us at ecert@edvantageinternational.com
Swinburne University
Swinburne is a globally-engaged institution leading the way in science, technology, business, design and innovation. We attract world-class minds and participate in world-changing projects and partnerships.
Why study with us?
· We are an internationally recognised university
· Real-world industry connections and experiences
· High-quality research and teaching
· Cutting-edge facilities that enhance learning
· Flexible study options available
Future-ready learning
Students come first at Swinburne. Our courses are designed with your future in mind. Swinburne offers high-quality teaching, opportunities to engage with industry, state-of-the-art facilities and flexible study options.
Study your way with our flexible options
We understand that you may have to organise your studies around family and other commitments. That's why we offer flexible course options to allow you to study part-time, over the weekends, at nights, online or even out of the country. Learn more about the study options we offer to suit your lifestyle.
Find the perfect course for you through our wide range of study levels and learning options. From bachelor degrees to PhDs, diplomas to short courses and even studying a single unit, learn more about the study levels we offer here at Swinburne.
UP Education
A pathway to university and a strong future At UP Education we open the door to an English-language university education.
Our difference lies in the way we combine specialised university entrance programmes and English language courses with personalised care and support for students studying away from home and family.
Pathways to success
We help students find pathways to success by getting them into the right courses and institutes to achieve their goals.
Our New Zealand-based Foundation Studies programmes prepare students for degree-level study. We offer:
The University of Auckland Certificate in Foundation Studies
AUT University Certificate in Foundation Studies
Victoria University of Wellington Foundation Studies Programme
We now also offer bridging programmes in Australia through our partnership with the University of Tasmania.
So that our New Zealand students have the right level of English language proficiency to complete Foundation Studies, we offer English language tuition at our Auckland-based English School, and The Campbell Institute, based in Wellington and Auckland.
A student-focused approach
Our student-focused approach to education prepares learners for success at English-language university. Students are encouraged to take responsibility for their learning, and are provided with the latest mobile technology to help them navigate the digital world.
Teachers of the highest quality
Our caring, experienced teachers take part in ongoing professional development to stay up to date with the latest innovations in learning and technology. We also have an independent appraisal system for staff that keeps teachers at the top of their field, and ensures the best outcomes for our students.
Strict academic standards
We teach Foundation Studies programmes on behalf of our partner universities, so our courses are set at an approved standard so that students can be successful at university.
While our focus is on seeing our students continue on to our university partners in either New Zealand or Australia, our qualifications help students gain entry into tertiary institutions all over the world.
Well-rounded students
Students come to UP Education to be academically successful but they will also learn about other cultures, including the culture of New Zealand and Australia. Subjects like Geography, History and Culture and Society help students explore local culture beyond the classroom.
Be the first to add a review.
Please,
login
to leave a review