Postgraduate Diploma in Marketing Level 8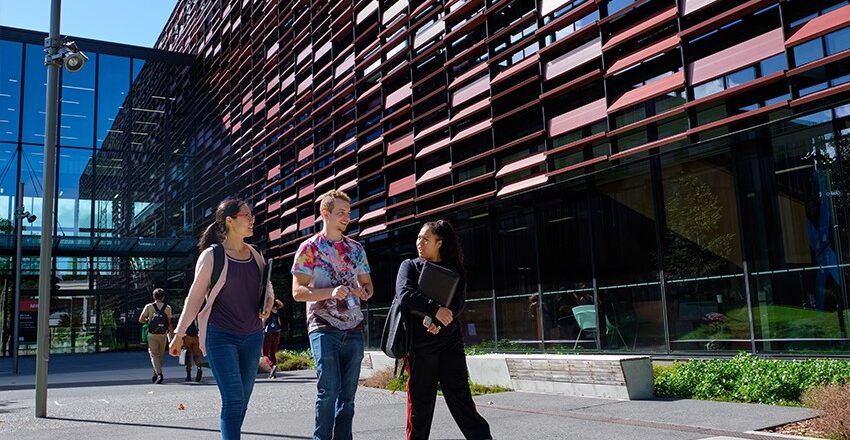 Postgraduate Diploma in Marketing Level 8
The Postgraduate Diploma in Marketing enables students with a bachelor's degree in any field to study marketing at postgraduate level. In as little as eight months, students will develop knowledge, understanding and skills require for a professional marketing role.
Modules
To qualify for the Postgraduate Diploma in Marketing, a student must successfully complete 120 points from the following courses. All courses are 15 points.
Textbooks are included in your course fees.
To transition from the Postgraduate Diploma in Marketing to the Master of Marketing, you are required to maintain a B- grade average.
Complete eight courses from
ACCT868 Accounting for Financial and Managerial Decision Making
ECON861 Economics for Business
MGMT861 Managing Organisations and People
MKTG860 Marketing Management
MKTG861 Understanding Markets
MKTG862 Understanding Consumers
MKTG863 Strategic Marketing Science
MKTG864 Digital, Social and Mobile Marketing
What will I learn?
A graduate of the Postgraduate Diploma in Marketing will be able to:
a. Demonstrate advanced knowledge of professional practices in marketing. (Knowledge/Understanding)
b. Use reflection at an advanced level to deepen knowledge of self, others and relevant professional practice. (Personal/Intellectual Autonomy)
c. Consider at an advanced level the relevant social, ethical, environmental and sustainability dimensions of decisions in business contexts. (Ethical/Professional Dispositions)
d. Use advanced conceptual and critical thinking, analysis, reasoning, integration and judgement. (Inquiry/Research/Creativity)
e. Apply contemporary theory to current marketing issues. (Skills/Application)
f. Communicate effectively. (Communication).
AUCKLAND UNIVERSITY OF NEWZEALAND
AUT is the second largest university in New Zealand. We have been a university since 2000, but a place of learning for 120 years and operate in accordance with the Education Act (1989).
We're proud to be one of the world's best modern universities – Times Higher Education has ranked us as the top millennial university in Australasia and we're in the top 1% of universities in the world.
When AUT became a university in January 2000, it had a clear vision: to provide its students with exceptional learning experiences, and send them into the world as outstanding graduates. This student-centred vision has guided AUT's development over the past 20 years.
Now, more than 29,000 students from 137 countries study at AUT across our three campuses in Auckland's central business district, on the North Shore and in Manukau, making us one of the largest universities in New Zealand
Why study with us?
A world-class university environment
We're proud to be one of the world's best modern universities – Times Higher Education has ranked us as the top millennial university in Australasia and number 15 in the world. We have an overall five-star rating from university rankings organization QS, in addition to five star ratings for Teaching, Employability, Research, Inter nationalization, Facilities, Innovation and Inclusiveness.
We have been a university since 2000, and are now the second largest in the country and ranked among the top 1% (251-300) of universities in the world.
Study with us and you can enroll in our range of world-ranked subjects, which include New Zealand's top-ranked health programmers and one of the world's best sport science school. Study both business and computer and information sciences, and prepare yourself for a wide range of careers in as little as four years.
An innovative teaching and learning space
AUT's three modern campuses have several award-winning buildings which were created using sustainable principles and feature inviting, collaborative and functional learning areas, auditoriums and research spaces. This includes the state-of-the-art Engineering, Computer and Mathematical Sciences building, which has unique design features that mean it can be used as a teaching tool and 'living lab' where students can get hands-on experience.
World-leading staff
Our academic staff are research-active and at the forefront of their disciplines. Many of them are internationally known as experts in their fields, and organisations around the world draw on their expertise for key projects.
Innovative and relevant research
AUT is ranked first in New Zealand for global research impact (the number of times our research is cited by academics globally) by Times Higher Education and the US News Global Universities Rankings.
We have more than 60 research centres and institutes delivering leading research – from space research to artificial intelligence and robotics, and ecology to physical activity and nutrition.
Accreditation/ Recognition
AUCKLAND UNIVERSITY OF TECHNOLOGY
World Ranking

Be the first to add a review.
Please,
login
to leave a review